Get started with typedesk
New to typedesk? Welcome! We're excited to show you some of the cool things you'll soon be able to do! Let's get going!
In this article :
---
How it works
typedesk gives you typing superpowers! Once you install typedesk on your computer, you can turn "/contract" into a fully customized contract for instance. You are in control and you can create as many templates as you want. This will save you several hours a week like our active users.
typedesk offers 2 ways to use your templates:
1. Using the shortcut Alt+C (Windows) or Option+C (Mac)
This opens a popup that allows you to quickly search through your templates.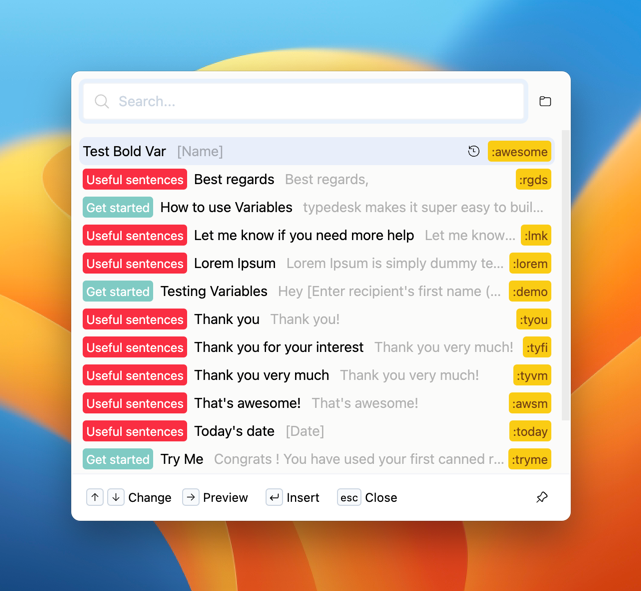 2. Using custom shortcuts
You can define a custom shortcut for each response you create, like "/email", "/contract" etc. This is very useful to quickly use any template, whether they are simple sentences or complex templates with placeholders etc.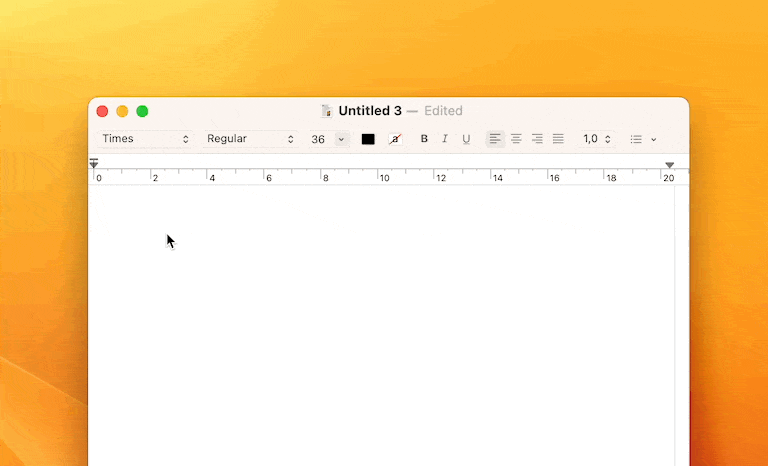 Please note you can change and remove the trigger character (like / or :) in the app preferences.
Create and edit templates
When you first open typedesk, you are set with a list of common templates. Click on the + button to add your first canned response.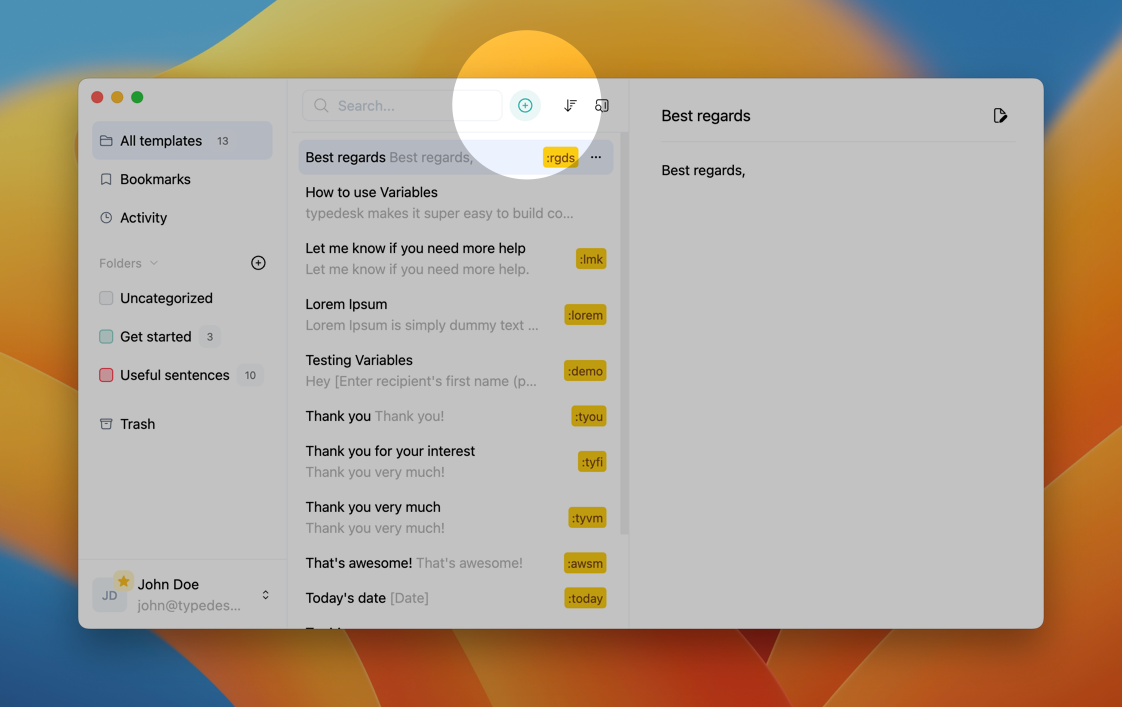 You can choose a name for your response, as well as a shortcut to recall this response in all your other apps (Slack, Gmail, Zendesk etc).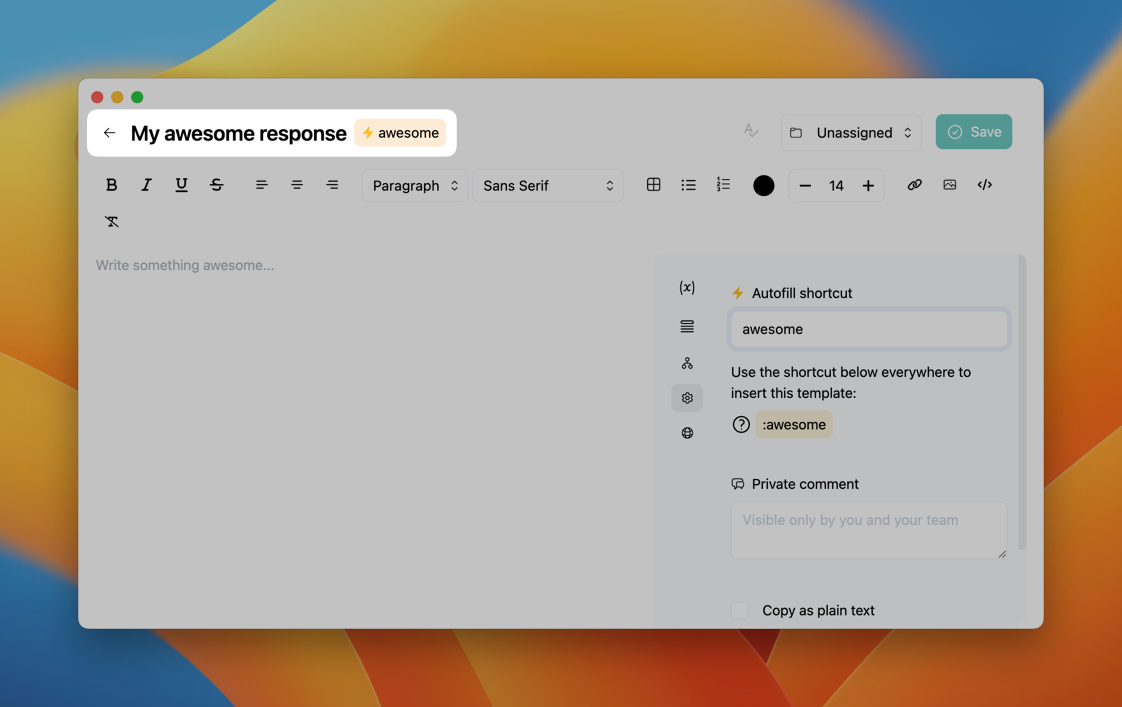 ---
Understand placeholders
Placeholders are the best way to turn a static piece of text into a dynamic template that you can easily customize and reuse. For instance, you can use placeholders for any piece of info like a customer name, order reference, address, etc.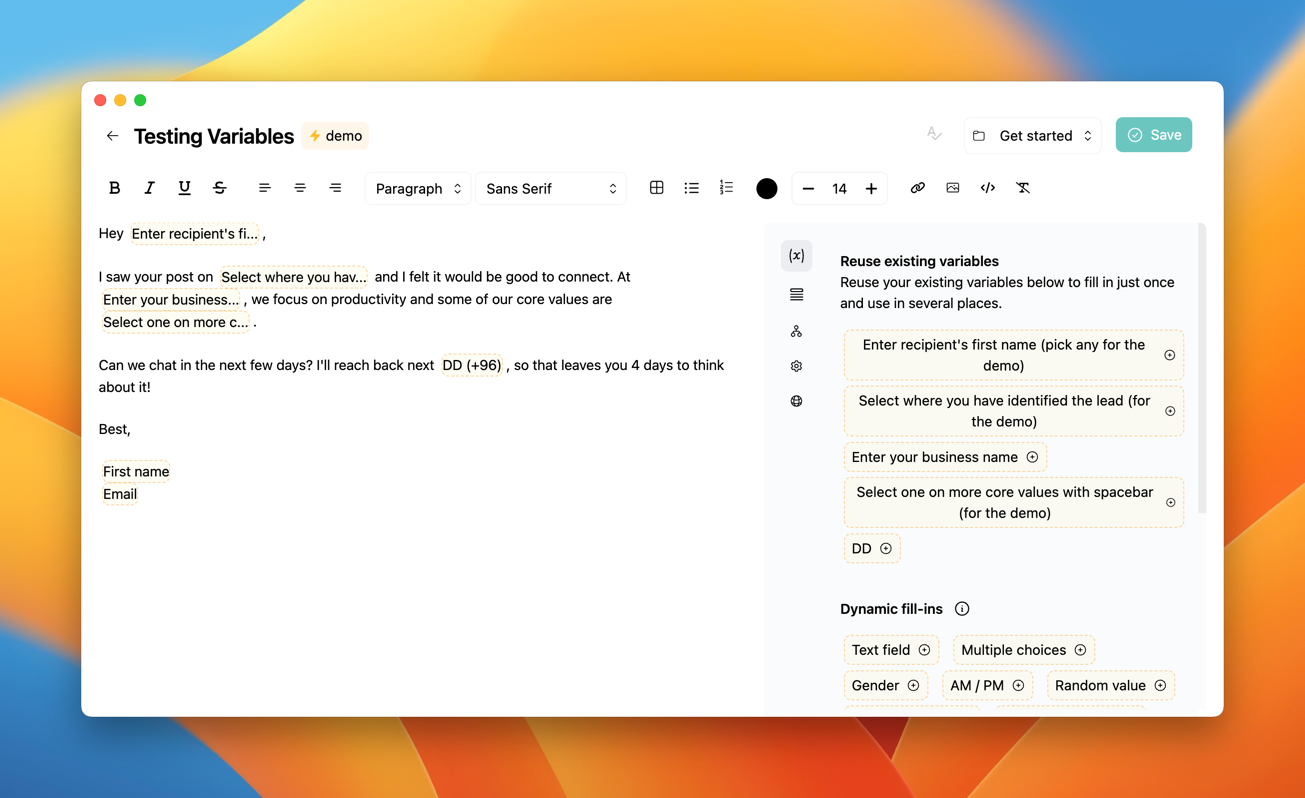 Look over to the right side of the editor to browse all the available placeholders.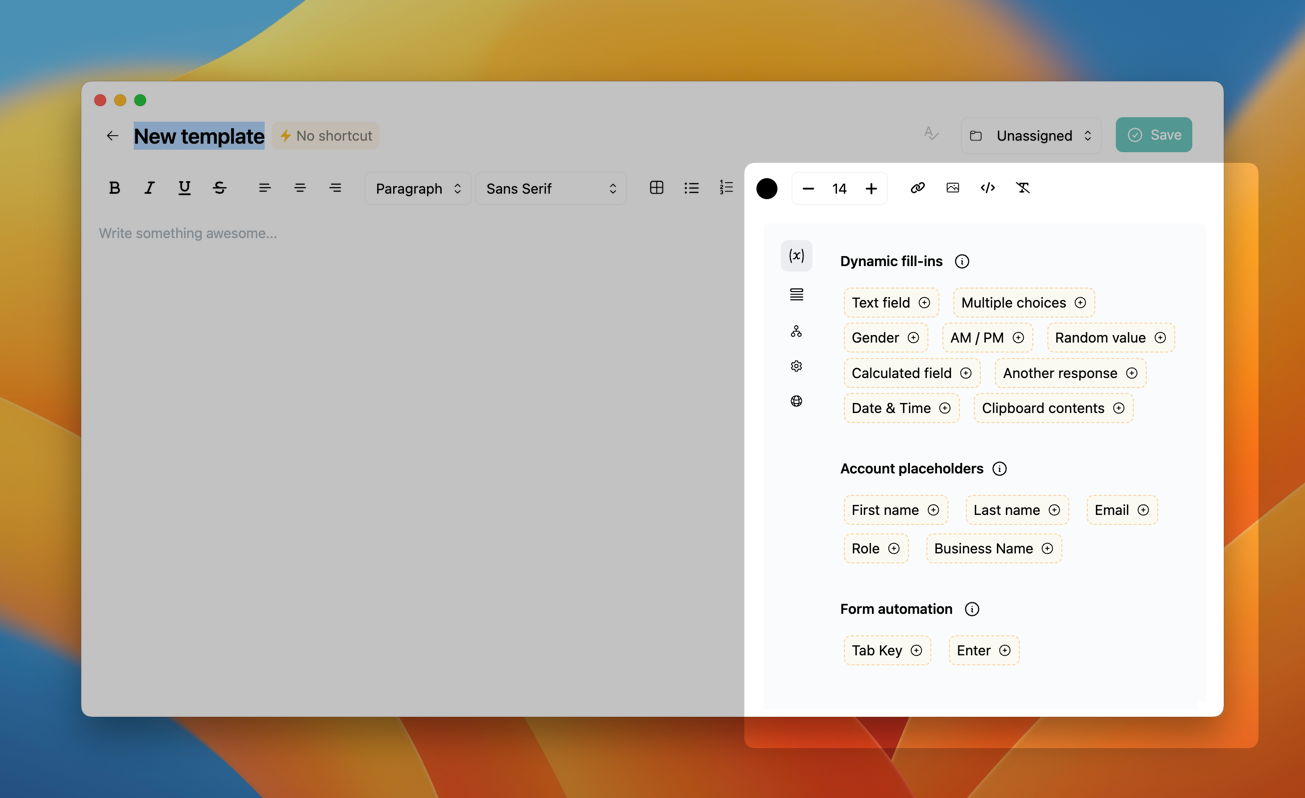 Once you add a placeholder to your template, typedesk will ask you how to fill in this placeholder each time you use your template.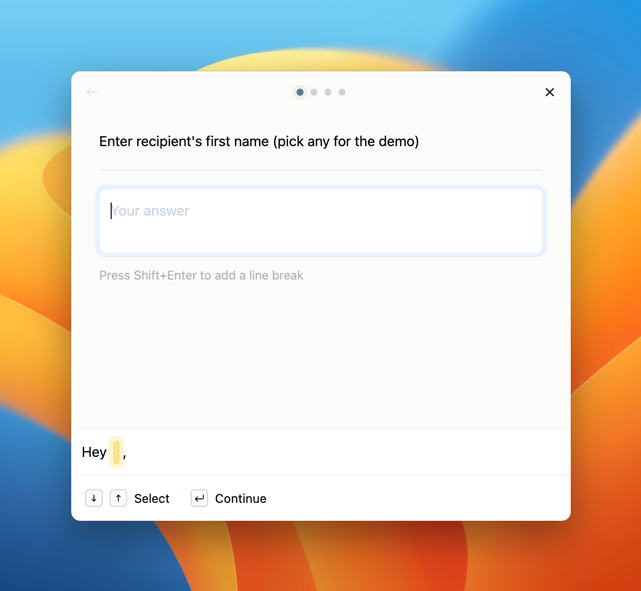 There are many variable types, feel free to play around with each one to create powerful templates. See our dedicated article on variables here.
---
Invite team members
Are you ready to share your awesome templates with your team? Awesome, it's super easy with typedesk. Please note you can only share folders and it's impossible to share individual templates.

Right-click on any folder, and select Share. Then, enter your coworker's email address, or select the email address if the person is already on your plan.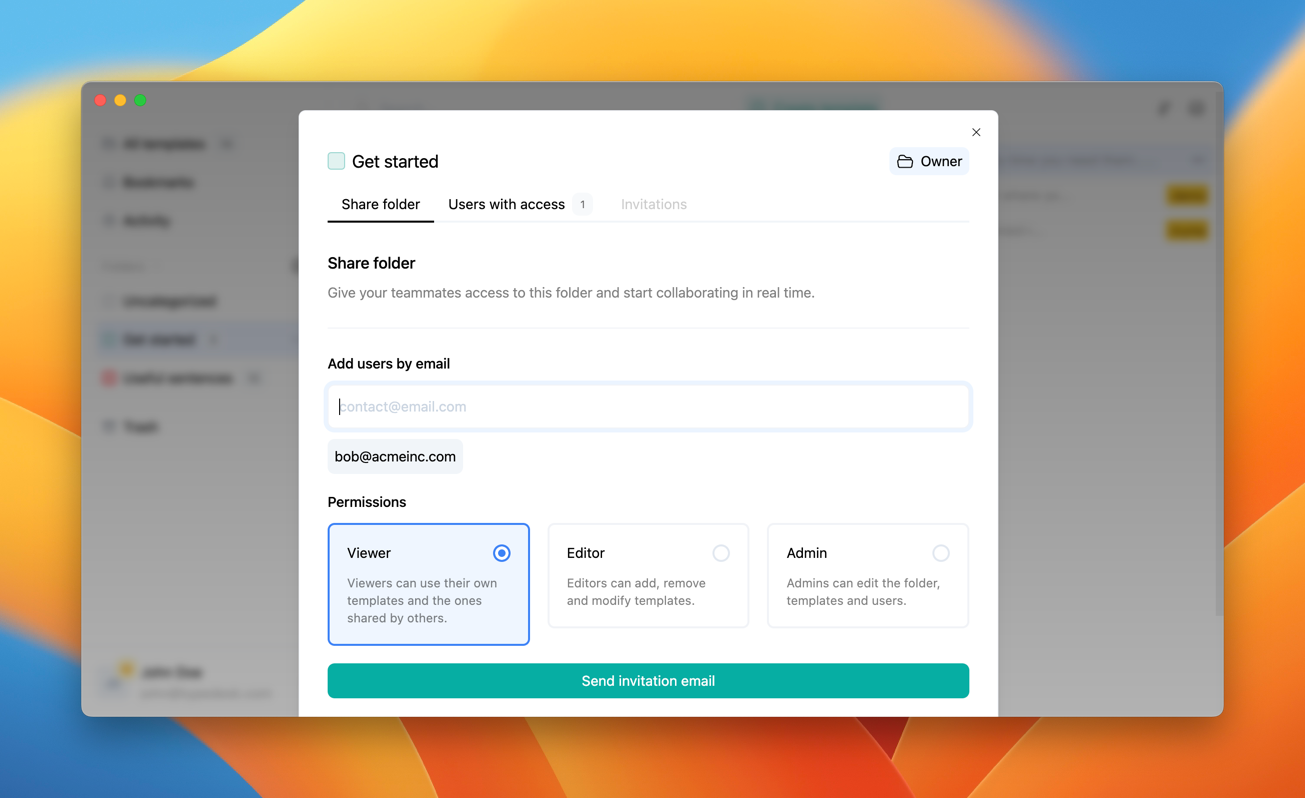 You can easily choose what kind of permissions you want to give this user. Click here to learn more about user permissions.
---
Do I need the desktop app to use the browser extension?
You don't, BUT the extension does not offer quick shortcuts like the desktop app does. Read more about it here.
Questions?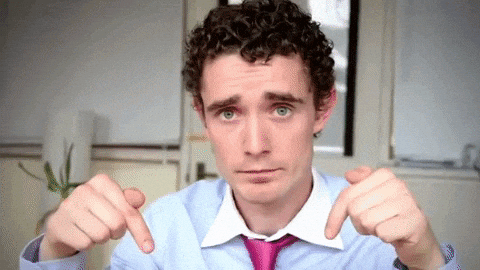 See our full help section if you have any questions and feel free to reach out should you have any other issues!
---