Get started for free
Supercharge your canned responses for Microsoft Teams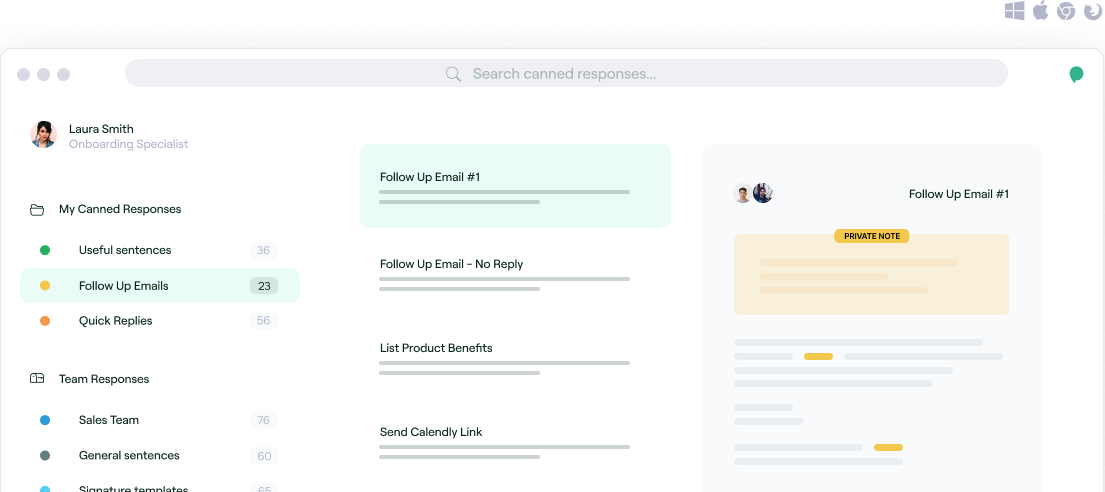 typedesk is your next text snippet app for Microsoft Teams. Save hours of typing by using our blazing fast search and powerful templating engine in Teams. Easily search through all your text snippets, and hit enter to copy your text snippet to the clipboard, ready to be used on in Microsoft Teams!
How can I create canned responses for Microsoft Teams?
1
Download typedesk
Get one of our apps for Windows, Mac, or your web browser, and create your account.
Get started
2
Create your first canned responses
Use our powerful yet simple editor to create advanced canned responses.
3
Use your canned responses in Microsoft Teams
Press Alt+C to quickly search and copy your canned responses.
It works with all the popular chat platforms
Need your text snippets in Slack? Check. Microsoft Teams? Yes. Discord? Sure!

typedesk makes your text snippets available everywhere, without having to change anything to the way you work!
See how we compare with other canned responses apps
Other chat platforms
Quickly search your canned responses using natural language with a keyboard shortcut
Apps for Windows, Mac, Chrome and Firefox
Search, build and use canned responses without ever touching the mouse
Organize your text templates into folders
Share your text templates with your team, easily by email
Create variations of the same text snippet
Give read-only or edit rights to your canned responses to different people
Create complex canned responses with custom variables
Automatically insert your text snippets with a keyboard shortcut
Our customers love their typing superpowers
A few reasons why our users love typedesk
typedesk is super easy to use. Creating advanced canned responses is just like editing a text document!
It has awesome keyboard shortcuts (for instance, type :ssgn to insert your signature).
Our customer support is super friendly (try us out).
It works with all your other tools without replacing them.
It works offline.
It works on Windows, Mac and in your web browser.
It's blazing fast.
It supports variables, placeholders and translations for powerful canned responses that sound natural.
Supercharge your canned responses for Microsoft Teams
Give typedesk a try for 14 days, no credit card required.