We are thrilled to announce that typedesk v3 for Mac and Windows is finally here after months of hard work! Our team has been working around the clock to ensure that this latest version of typedesk is everything that our users have been asking for, and we couldn't be more excited to share it with you.
Our users have been fundamental in helping us shape this new version of typedesk, and we're so grateful for all the feedback and support we've received. We've taken all of your comments to heart and used them to create a new vision for typedesk, one that is faster, easier to use, and more powerful than ever before!
We've rebuilt typedesk from the ground up with several key goals in mind, such as making it blazing fast, compatible with Apple Silicon chips, and even more powerful with better variables. And we're proud to say that we've achieved all of these goals and more with the release of typedesk v3.
So what's new in this latest version? Well, there are a ton of exciting new features and improvements that we can't wait to share with you!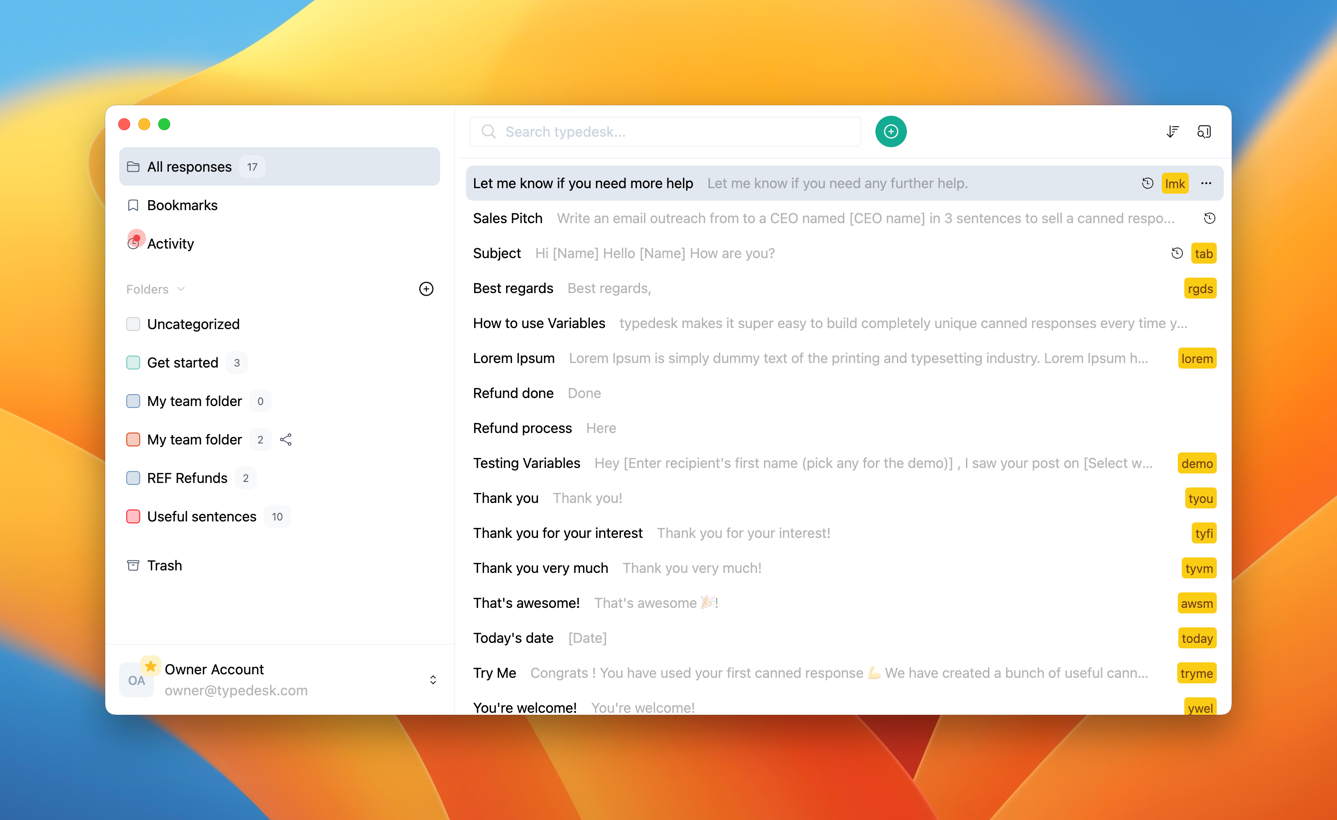 In short
Better Performance
Native Apple Silicon compatibility
Brand new UX/UI
🤖💣 ChatGPT integration to create prompts and insert the generated text on the fly
New editor, with improved variables
Translated in English, French, Spanish and German (including days and months for the Date variable)
New "Calculation" variable to perform calculations (quotes, pricing etc)
Easier sharing
New "Activity" tab
New "Compact" view of the main app
New "Quick Access" window to quickly search through responses without opening the main app
Better multi-display / multi-desktop support
Improved auto-updates
Performance improvements
typedesk is now widely used in teams larger than we could ever imagine! Our new and improved version better handles large amounts of templates and bigger teams with seamless performance. Plus, text expansion will be super speedy! Get ready for a phenomenal experience with typedesk!
Quick Access
Woohoo! Our latest browser extension updates have made it so convenient to search your canned responses with Quick Access. No more waiting or having to open the whole app to take a look - and it's now available on the desktop app, how neat is that!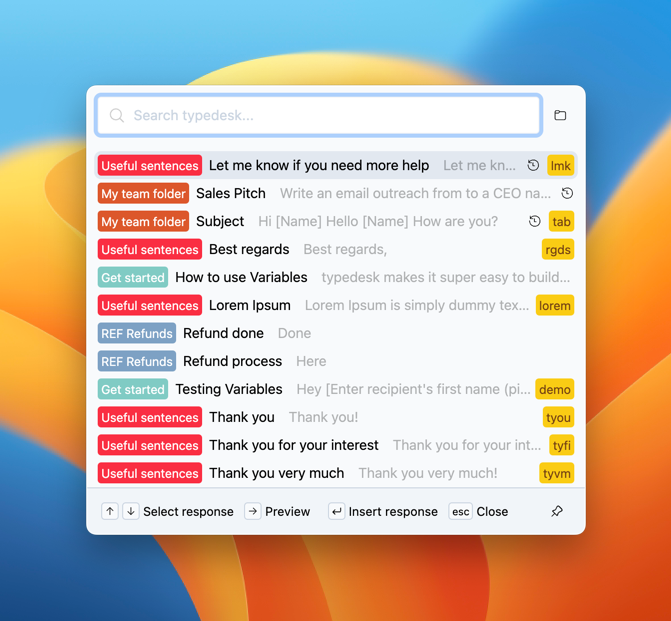 Text Expansion preview
When filling in your templates, you now see a live preview of what your template will look like.
You can now get an instant preview of your template when you fill it out!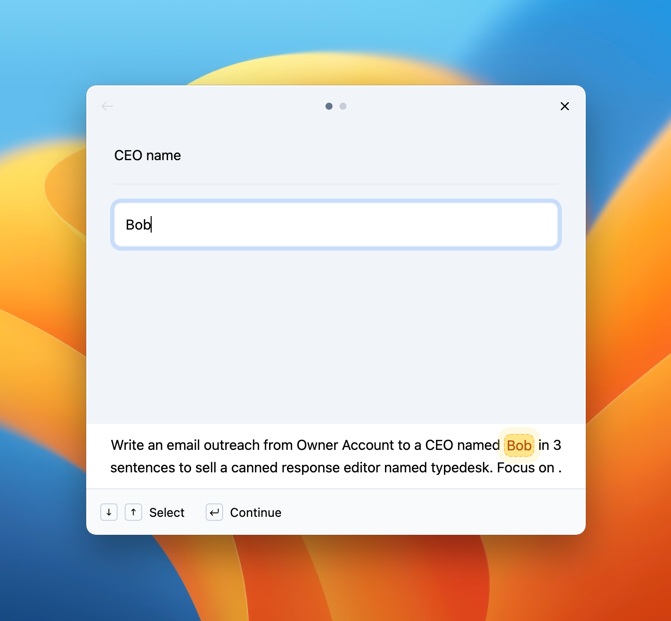 Activity Panel
See everything happening on your account in one glance: changes made to your template, people joining your team, etc. You and your team are notified when someone changes something on your shared templates.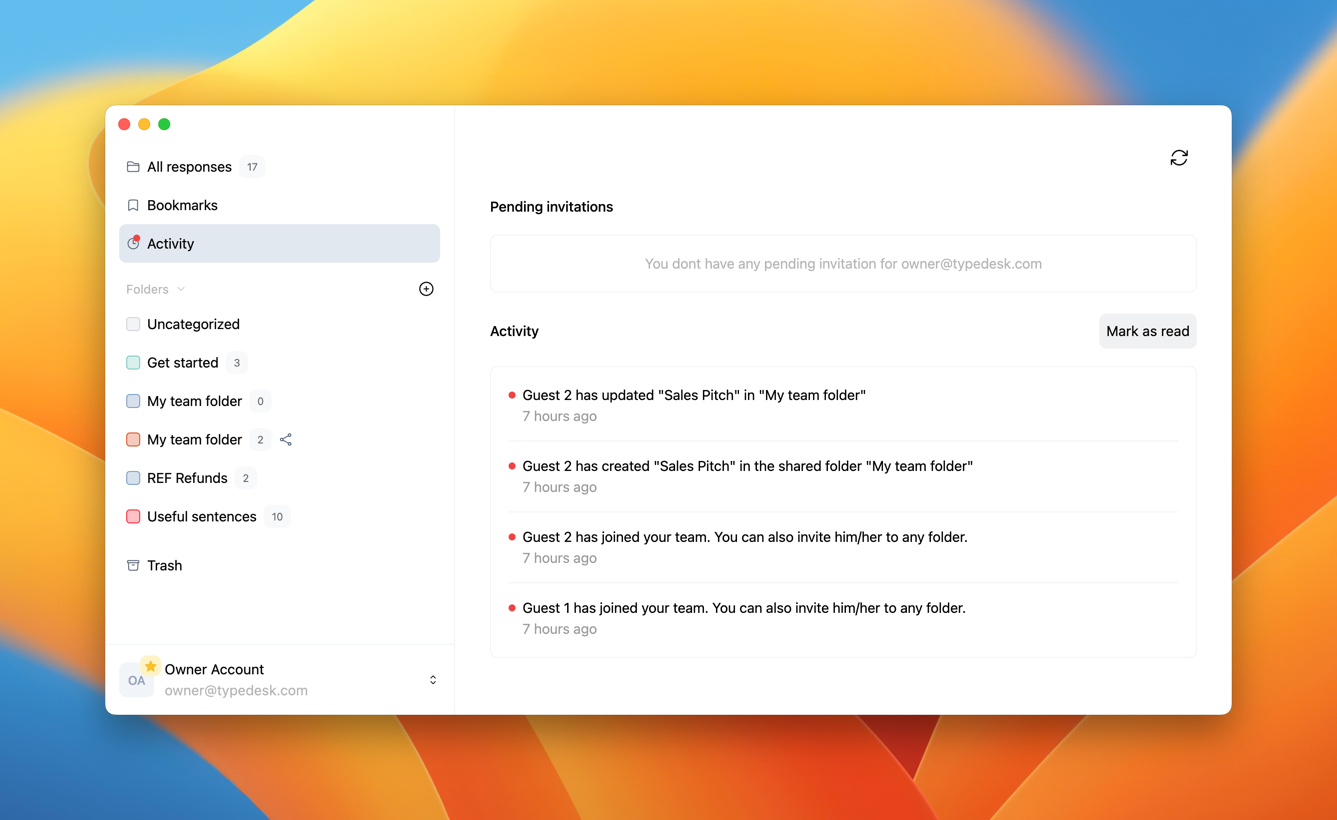 Easier sharing
Yay! Sharing folders just became easier than ever! We've simplified and improved the process of sharing your folders, and you can now enjoy fine-grained permissions.
New UX/UI
With a new "compact" view that hides the preview to show more templates in one screen.
Chat GPT integration (experimental)
We're excited to announce our experimental integration with ChatGPT, which allows you to use typedesk as a prompt generator! Click here to see how it works.
Please note that you need your own paid Open AI API Key for this to work.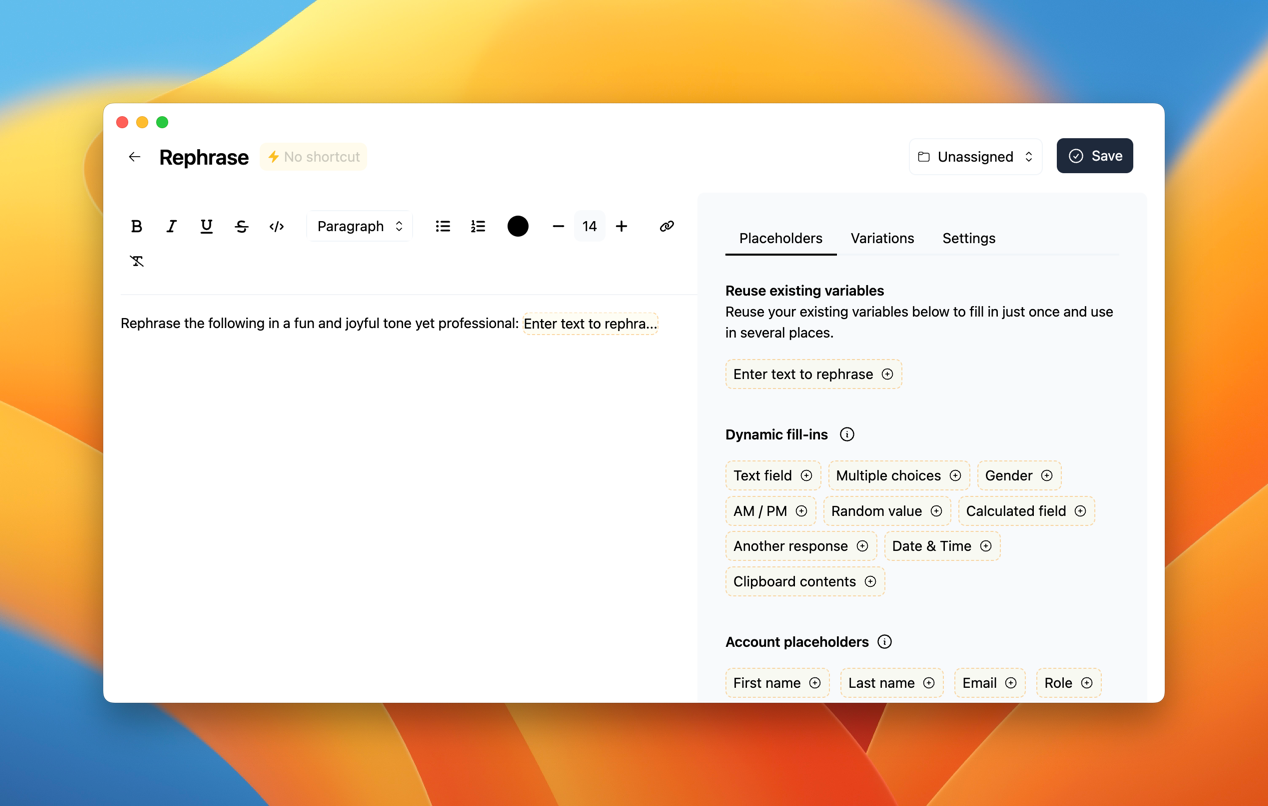 Translations
That's not all! We've also added translations in English, Spanish, French, and German, and improved the customization of dates translations.
Calculations
You can now create a variable that calculates a value based on other variables.
Rollout plan
We're offering a beta version which is close to release but may still contain minor issues. If so, please let us know so we can release all the fixes before the stable release. And rest assured, all your previous folders and responses will work in this new version, and you can go back to typedesk v2 at any point.
We're so excited to debut this brand new version of typedesk and we hope that you'll love it as much as we do. So why not try it out for yourself? You can download and install typedesk using the links below, and we encourage you to send us your feedback using the chat on our website. Your input is invaluable to us as we continue to make typedesk even better!
⚠️ Please note the following limitations of the beta version:
It is a beta version for test purposes, so it may be unstable in some cases, and we do not recommend using it at this point if you absolutely need a stable version to work.
You need your own paid Open AI key to be able to use the ChatGPT integration.
The responses you create in the NEW version will not be available in the old versions, as the structure of the data is changing in the new version. We are working on retro-compatibility but for the span of the beta, the templates you create in the new version will only work in the new version (excluding the old desktop version, the extension and the web version).
For Mac ARM: https://www.typedesk.com/beta/mac-arm
For Mac Intel: https://www.typedesk.com/beta/mac
For Windows: https://www.typedesk.com/beta/windows