When it comes to using Quick Shortcuts for your canned responses, using the right strategies can drastically optimize your workflows. Quick Shortcuts are the best way to quickly insert your canned responses and text snippets everywhere you need them.
What are Quick Shortcuts
If you're not familiar with Quick Shortcuts, typedesk offers a convenient way to automatically type things you type every day, like your email address, outreach email templates, name, or event frequent URLs. Using a shortcut of your choice (could be /myemailaddress or something much shorter for instance), typedesk will auto-type for you in any app or website.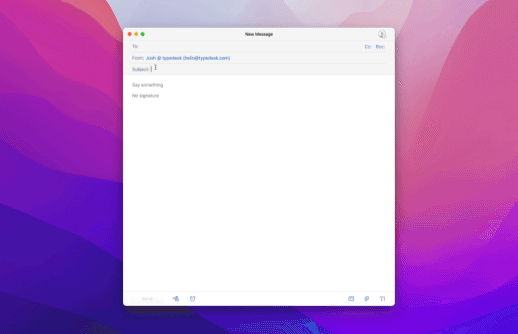 So here's the feedback we collected from our very own users.
#1. Find the right length
It may be obvious, but you want to make sure you use a shortcut that's not longer than the original text, but also that will be specific enough so it doesn't conflict with other shortcuts. Let me show you an example.
If you decide the use /em for your email, score for the length! However, you may encounter an issue if you decide later on to use /emwelcome for a nice welcome email for your new clients since typedesk will pick up /em.
#2. Use prefixes
If you use a lot of Quick Shortcuts, or you use shortcuts that are words you use in your natural language, sometimes you will trigger autotype by mistake. The best to avoid that is a smart prefix system.
For instance, you can have a double letter, like /ccemail for your canned email. Or use a double-letter prefix depending on the team, like /saoutreach for a sales outreach email and /tshello for tech support hello.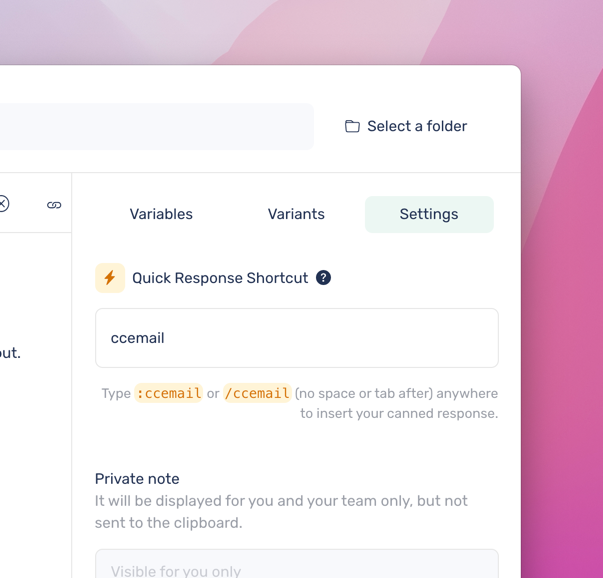 #3. Numbering the right way
Let's say you have an email sequence, with 5 messages that you send out depending on the client's status. Number your quick shortcuts so you can easily remember them. For instance, /ccdrip01, /ccdrip02 etc.
You'll note I'm using ccdrip01 and not ccdrip1 for one simple reason: if your number goes over 10, ccdrip10 will trigger ccdrip1 instead.
#4. One shortcut, many responses
What if you could have one shortcut for many responses in the same theme. Well, that's possible! Use Variants to group your responses together under a single shortcut. When using a quick shortcut with several variants, you'll simply select which variant you want to use.
A very easy one could be one response for your email addresses, with one email per variant: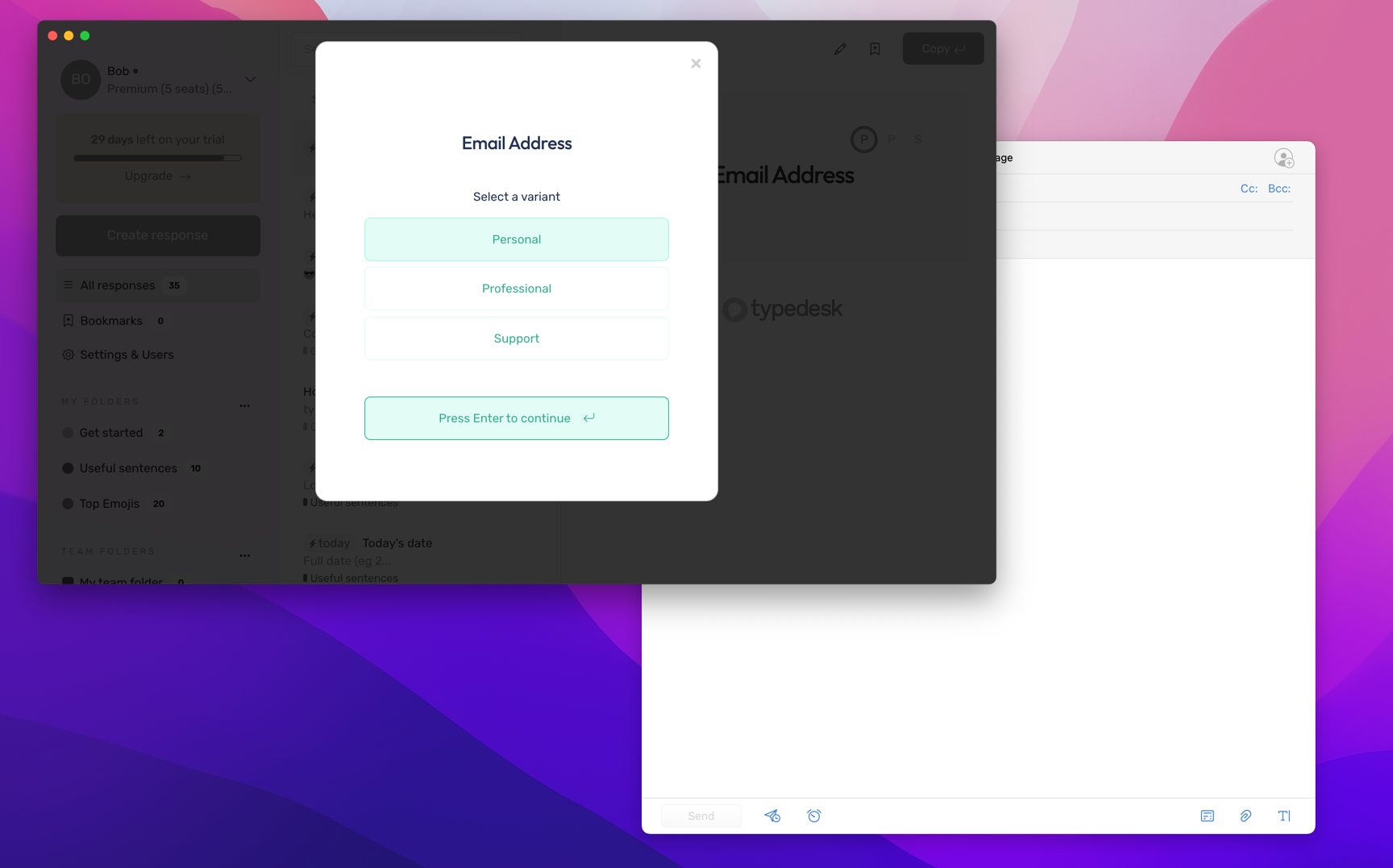 #Wrap up. When you don't remember your Quick Shortcuts
Quick Shortcuts are great for the responses you use everyday, but what if you can't remember a shortcut you set a while back?
typedesk offers instant search thanks to the Search Shortcut (see here). Feel free to use it to search a response by keyword.